The least considered but the most important: Isla Mujeres great weather.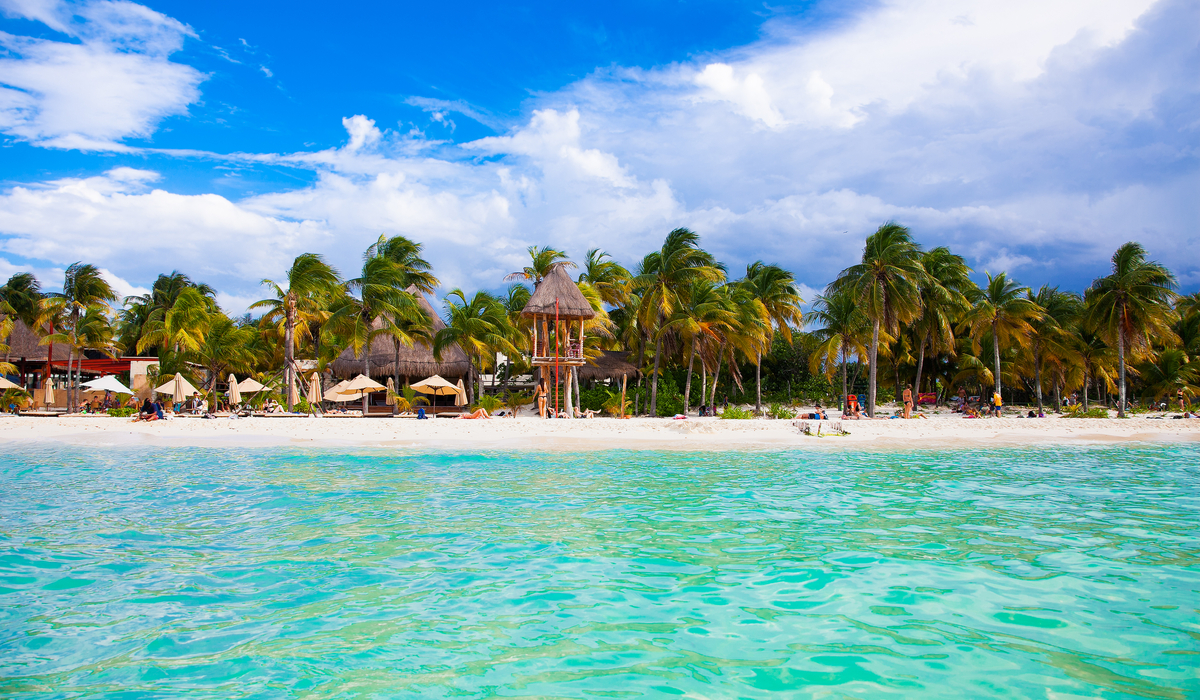 For the north hemisphere, the first months of the year are winter. When you think in winter, the first thing that comes to mind is cold, wind and snow. brr* Well, that's all the opposite when experiencing winter in the Caribbean.
For comparison, let's see the weather in La Jolla USA.
La Jolla is one of the most beautiful beaches in the U.S.A, and in summer it is very sunny. The average high temperature stays between the 60 degrees and high 70. The ocean temperature warms up during the summer, reaching 68° or 69 ° F.
Usually, this temperature it's pretty cold for swimmers , but with a wetsuit, you can barely find it cold. Fortunately, there is rarely any rainfall during these summer months and sunset is around 8pm, who means that you have enough hours of sunshine to enjoy the city.
In summer, this sounds like a great place to visit, but in winter the ocean temperature stays quite cold, going around 50° fahrenheit and anything below 64° will feel too cold to swim comfortably.
If you want to know more about the things you can do in both La Jolla and Isla mujeres here is the link to our blog.
That's why going to a Caribbean island sounds great to begin the year!
Do you know how the weather is in isla mujeres? It's phenomenal all year!
If you want to escape from winter, and get a cold, Isla Mujeres is waiting for you.
This island has been blessed with a great weather all the year, but if you are used to cold climates, winter is the best season: is warm, but not as in summer; the days are clear and temperature kept between 67°and 83°.
So, what's the main difference between winter and summer in the Caribbean?
All the information above, doesn't mean that summer is extremely hot, but is perfect if you live in temperatures under 30° F and want an escape from snow and ice or simply want some sun and sand to relax from a chaotic year.
A breathtaking experience: swimming with bull sharks.
Some wild animals emigrate from cold areas to warmer areas, one example is bull shark.
Bull shark season takes place in the Yucatan Peninsula, precisely because of the warm waters from Riviera Maya's coast. Appreciating these magnificent sharks alive and in their habitat is a real privilege that we can enjoy.
These magnificent animals swim in the Riviera Maya in winter!!
This is an experience that can only be lived in winter because female bull sharks need warm water to give birth, they choose the Mexican Caribbean to do so.And the best time for their baby sharks to spawn is between December and March.
You can interact with these animals that measure around 9 feet and can weigh more than 500 pounds. Due to their preference for lower depths, you'll find bull sharks swimming at around 75 feet below the surface.
Most of all, you'll be able to swim with these imposing sea creatures without interrupting their environment.
Seems too much adrenaline?? You can watch them swim too!
Yet, if you'd still like to go underwater but would rather keep your distance from the bull sharks, you can certainly do so. The bull shark observation tour allows you to get close, but not too close.
While you're in the water, you can still feel the rush of adrenaline even several feet away from the sharks.
If you need more information, companies like Aqua World will be pretty interested to give you more information about this.
Here is what you need to swim with sharks:
As you need a lot of skill to dive with bull sharks in Mexico, you must have your certifications in order. This activity requires at least 20 logged dives.
Also, you must have been diving in the last 2 years.The important thing is that you feel comfortable and safe with your diving knowledge so you can fully enjoy seeing these wonderful animals in their own world.
Start the year like never before: Stay cool and relax walking with complete privacy in a beach.
Some hotels like Hotel La Joya have private entrances to the beach, but what does it mean?
Less people in the beach, and given the situation with the Covid-19 now more than then is a real advantage so you can enjoy your vacations without any worry about being surrounded by people.
Does that mean I'm safe in Isla Mujeres? Absolutely Yes!
Every hotel, restaurant and even theme parks are taking seriously the Covid-19 pandemic. We all have careful sanitizing rooms and luggage. Since the start of the pandemic the protocols have been took ferociously. All to keep you and your loved ones secure.
You can check out in this link what Hotel La Joya is doing particularly with Covid to make you feel safe.
Being this safe ensures you instant relaxing.
Tune in with nature and open your inner self to spectacular views and breathtaking moments that can only be told by people who have experienced it on their own.
"Everything is perfect but the view is what makes every penny worth it. I felt total peace, calm and safety in this hotel. Definitely will go back."
-Traveler.
International tourism have seen all of this magnificent place. They have enjoyed so much what Isla mujeres has to offer, that you should do it too.
If you want more information regarding Isla Mujeres, email us down below, we will be glad to hear from you soon.